Private Investigator Mt Holly NC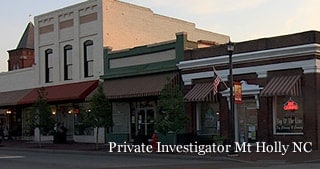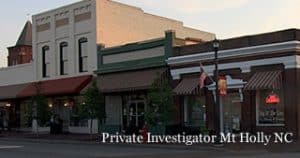 If you are looking for a private investigator in Mt Holly, NC, you have come to the right place. WB Investigations is the leader in providing private investigation and private detective services to its customers in the area. At WB Investigations, we strive to offer unmatched services to our clients in terms of accuracy, detail, exclusivity, and discretion. With an enviable success rate, our valuable experience and the fact that we have managed to solve innumerable cases to date, we have a long list of clients who are totally satisfied with our services.
By choosing WB Investigations you automatically get access to the services of the best lawyers and government agencies and private investigation professionals that are present in the industry. With a team of trained, dedicated and motivated staff, our reputation in efficiently handling every case that we take up and our quality of service has made WB Investigations a company to be reckoned with in Monroe, NC. If your quest is for a discreet, fast, honest and reliable private investigator in Monroe, NC or anywhere in the Charlotte region, look no further than WB Investigations. Get in touch with us today!  
WB Investigations – Services Offered
At WB Investigations, we offer a gamut of specialized services for our clients. They are briefly detailed below:
Background Checks: WB Investigations offers background, reference and criminal history checks for individuals as well as DMV search services (license, registration, title, insurance, etc.)
Trial Preparation: Our team of legal professionals offers a string of services including advisory help in legal matters, notarization services, preparation of legal documents and subpoena, filing of cases/documents in courts, etc., among others.
Matrimonial: All types of surveillance related to infidelity and other services pertaining to family law are offered.
Custody Cases: Services offered by us in this area include conducting surveillance and research, obtaining asset information and witness statement, etc.
Surveillance: As part of the surveillance services, we sell hidden cameras and tracking equipment, among many others, for the purpose of conducting extensive and accurate surveillance.
Insurance Claims: We provide assistance for cases related to workers compensation disability and liability.
School District: The services that we provide for school district include obtaining testimony, conducting surveillance and verification of address history.
Sports/Recreation Inquiries: For our clients, we carry out inquiries related to licensing, ownership and laws as well as regulations.
Finally, we work with all types of clients such as individuals, landlords, small businesses and corporates. Unlike our competitors, we do not discriminate our customers. Please feel free to call us and choose to work with the private investigator in Monroe, NC.